Baby boys Halloween Costume Ideas for 2021 – inspiration and ideas!
Halloween is almost here, but you're still struggling to find an adorable costume for your baby.
It's not easy finding the perfect costume for your little one that's cute, fun, and still comfortable for your baby.
Don't worry, we've done all the hard work for you and found some of the best costumes to dress your baby as this year. From cute animals, to your favorite cartoon character, we have it all!
So what are you waiting for? Get inspired by our collection below and choose one that's right for you!
Note: this blog post probably contains affiliate links, which means we may receive small commissions from purchases made through links in this post (at NO extra cost to you). You can read our full disclosure for more information.
How to Choose the Right Halloween Costume For Your Baby Boy
When choosing a baby boy's Halloween costume, you'll need to pay special attention to:
comfort of the costume – if the costume is scratchy, pokey or ill-fitting, forget about it. Your baby won't tolerate being dressed up in an uncomfortable outfit, especially if you have a crawler or a walker.
warmth – consider the temperatures baby will be exposed to. There are lots of cute outfits out there but you may need to add layers that cover up.
safety – safety comes first of course. Make sure necklines don't ride up and cover baby's face, especial for newborn Halloween costumes, no cords that can tangle, and no buttons or small pieces that could be swallowed. Use your best judgment – if you think something could be unsafe, don't use it.
diaper change friendly – there's nothing worse than getting baby dressed up in a fancy outfit only to have to completely undress him for a diaper change. Make sure the costume you choose is functional first!
Read more: Cerebral Palsy Guide to Birth Injury
These 14 Baby Boys Halloween Costume Ideas Will Make You Rethink The Way You Dress Your Little Ones Up For Halloween
Infant Neon Leopard Cub Costume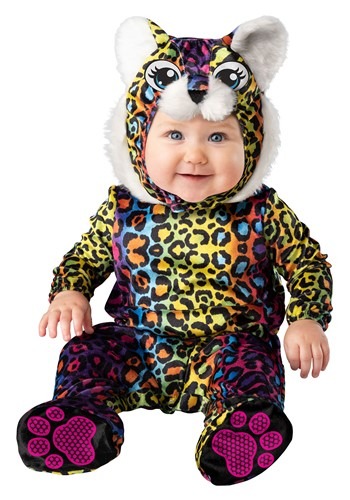 Infant Neon Leopard Cub Costume
Your little one is sure to draw eyes with this colorful costume! In addition to being super cute, this costume is also very comfy as it's design is based on footed pajamas. That makes it totally perfect for a newborn or really any baby who might like to take a nap on Halloween night.
It's easy to change diapers because of the metal snaps between the legs.
For safety, the cute little hood is separate so you can remove it when baby is sleeping (or just pop it on for a photo).
What You Need to Know:
available in sizes from newborn to 24 months
footed pajama design
removable hood
snap up crotch for easy diaper change access
Zany Zebra Costume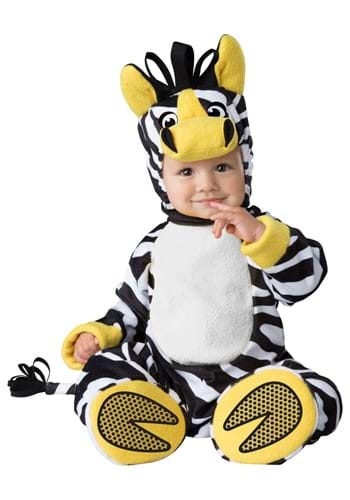 Zany Zebra Costume for Infants
Animals are a great first costume choice for your baby boy – they're one of the first things we start pointing out to kids and they'll absolutely love it if they recognise their favorite animal.
This Zebra costume is super cute with splashes of yellow on the striking black and white stripe of the comfy and cosy jumpsuit. It has a zip up the back, which maybe isn't quite the best option for diaper changes.
The head piece, booties and the tail are separate and detachable for safer sleeping. Keep it on for photos and then take it off for your little boy's comfort.
What You Need to Know
available in sizes from newborn to 24 months
jumpsuit design with a zipper at the back (not the best option for diaper changes)
removable hood and tail
booties are also separate
Nutty the Squirrel Costume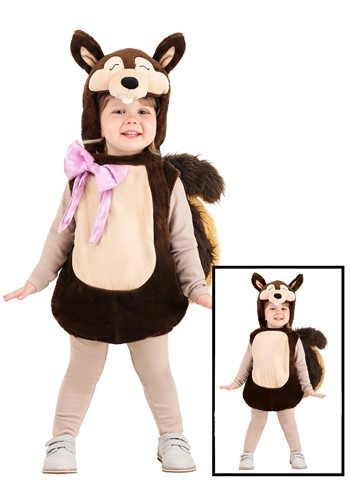 Infant Nutty the Squirrel Costume
How cute is this little squirrel? This gorgeous soft furry tunic is perfect for your little boy's first Halloween costume.
It includes a fluffy tail and a 3D stuffed hood which is attached. Tights and a long sleeve shirt in a matching color definitely recommended (and not included). Snap crotch means diaper changes are easy to attend to.
This is a great costume for older babies and toddlers.
What You Need to Know
available in sizes from 6 months to 2T
you'll need to purchase tights and a long sleeve shirt separately to the costume

hood and tail is not removable

snap button crotch for easy diaper changes
Jurassic World Hatchling Triceratops Costume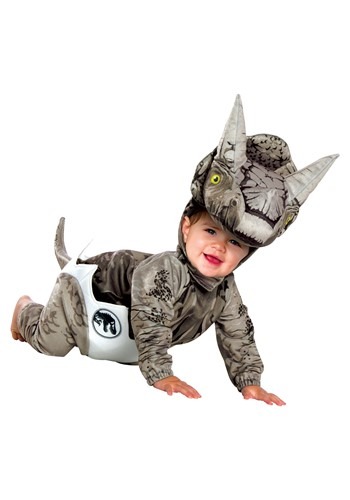 Infant Jurassic World Hatchling Triceratops Costume
Who doesn't secretly want to be a dinosaur for Halloween?
This little dinosaur hatchling is ridiculously adorable and is sure to delight any dinosaur loving kid. This is an especially awesome choice if your little one has an older sibling! They'll love it.
This costume is designed like a jumpsuit with hook and loops closure at the back, made from deliciously soft velour with a plush tail and half egg shell attached. The hood is an adorably sculpted baby triceratops face.
The crotch also has hook and loop fastener strips for easy diaper access.
What You Need to Know
available in size 6/12 months
jumpsuit design with hook and loop fasteners at the crotch for diaper access
removable headpiece
Peter Pan Costume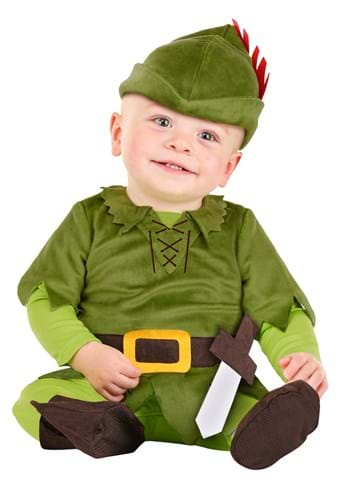 Infant Peter Pan Costume
While it's fun to dress baby up in an animal costume, another awesome place for costume inspiration is classic literature.
Peter Pan makes for a cute and easy costume option for a baby boy. You might be surprised to know that this outfit is actually a jumpsuit styled to look like a tunic over shirt and tights.
The costume is very soft, made of a luscious minky material with felt applique details. Plastic crotch snaps make for easy diaper access and the costume itself has hook and loop fasteners at the back.
The hat is separate and the felt sword can be removed easily with a hook and loop fastener to hold it in place.
What You Need to Know
coming soon!
sizes 0 – 12/18MO
jumpsuit style with crotch snaps for easy diaper access
Silly Spartan Costume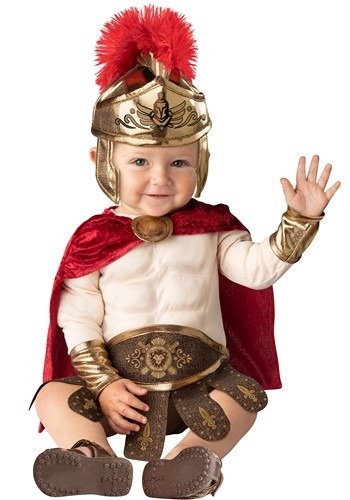 Infant Silly Spartan Costume
Silly? No way! This baby Spartan costume is awesome!
With a sculpted chest and shoulders your little boy will look like a little warrior in his comfy bodysuit. There's a nice soft cape that attaches with hook and loop to complete the look for photos (you can also leave it detached if you prefer). There are metal snaps in the crotch area to help with diaper changes.
What You Need to Know
sizes newborn to 18/24MO
bodysuit fastens with hook and loops at the back
metal snaps at the crotch for easy diaper changing
velour cape and helmet are removable
Leprechaun Costume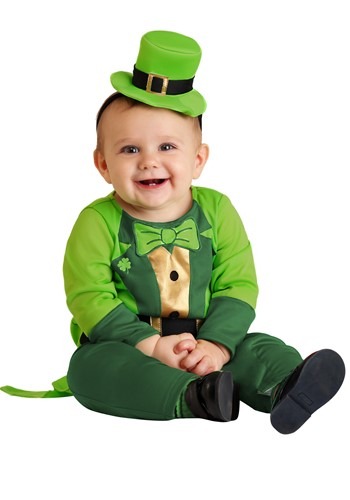 Infant Boy's Leprechaun Costume
Isn't this the cutest thing? This little leprechaun costume is a great idea for your little man. It's designed as a one piece jumpsuit with appliqued detail on the front. The adorable hat is made of foam and has elastic loops that slide over a headband.
The costume does up with hook and loop fasteners in the back with more hook and loops along the inseams for diaper access.
What You Need to Know
available in sizes from newborn to 9/12MO
jumpsuit design with hook and loop closure at the back
hook and loop crotch closure for easy diaper changes
separate hat
Baby Monkey Costume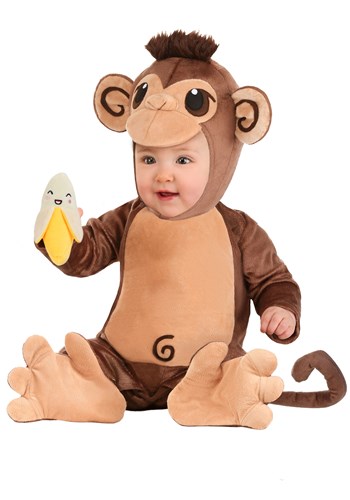 Baby Monkey Costume
This cute and cuddly costume is just so darling! It's a two piece – cosy jumpsuit and headpiece – and designed with practicality in mind. The costume zips up the back and has snap closures on the legs for diaper changes.
How cute are those monkey feet? The large feet are attached and part of the costume.
What You Need to Know
available in sizes from newborn to 18MO
jumpsuit design with a zipper at the back and snap closures at the legs for easy diapering
Removable headpiece
Monkey feet are attached
Best Halloween Costumes For Newborn Boys
If you've got a newborn, you might be wondering if there are any cute costumes out there for your baby. There is!
Just because your baby isn't going to be involved in trick or treating doesn't mean they can't get dressed up like the rest of the family. You'll just need to make sure what they wear is as comfortable as pajamas… not a problem!
Here are some cute and sweet newborn costumes that will meet the needs of the littlest ones:
Baby Hotdog Bunting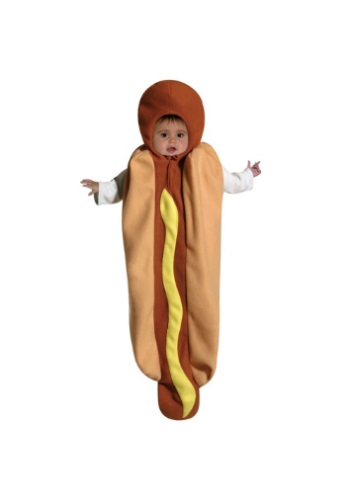 Baby Hotdog Bunting Costume
How hilarious and cute is this hotdog bunting? It's an easy way to keep baby warm and protected from the elements while you trick or treat – plus they get to join in the fun with a cute costume.
Baby Banana Bunting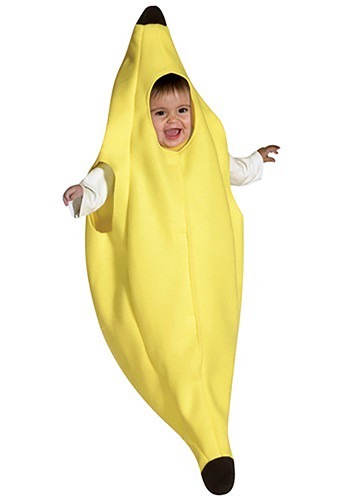 Baby Banana Bunting Costume
Just because your baby is a newborn doesn't mean you can't get them involved with the spirit of Halloween! A cute bunting like this one will keep your baby comfortable and warm while you trick or treat.
As a plus, you can leave your baby in his pajamas underneath for easy transfers back to bed.
Infant Shark Bunting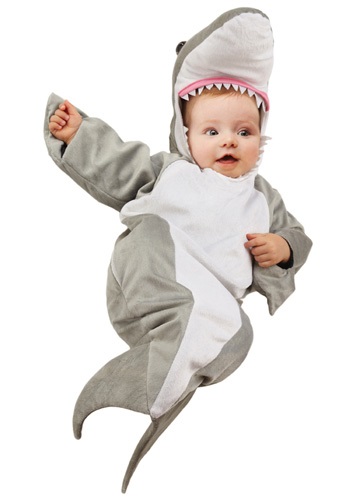 Infant Shark Bunting Costume
Step aside, baby shark! Here's the real deal… oh wait, it's just an adorable baby bunting option.
This warm and cosy bunting will keep your newborn boy snug and safe from the elements, while also looking dangerously cute.
Puppy Bunting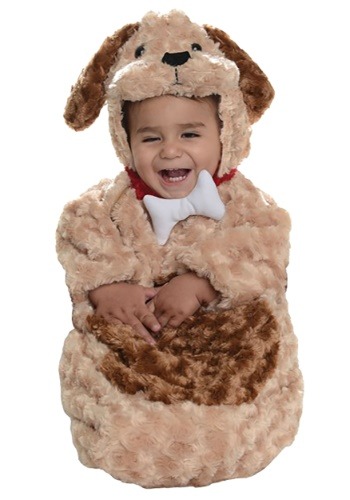 Infant Puppy Bunting Costume
Awww! This is probably the cutest thing I've seen.
If you want to wrap up your baby boy like a soft, squishy ball of fluff, this is the perfect costume. It'll keep him warm and toasty while you trick or treat.
Best Halloween Costumes for Older Babies and Toddlers
Dressing your older baby or toddler for Halloween is so much fun! There are loads of different costume ideas you can try, from their favorite character to animals or dinosaurs.
Here are some of our favorites:
Darling Dinosaur Infant or Toddler Costume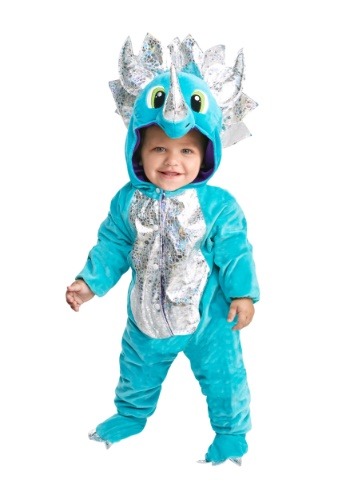 Darling Dinosaur Infant/Toddler Costume
Ooh! Shiny!
I mean, come on, how can you resist? This cute triceratops outfit ticks all the boxes for my kids – namely: 1. dinosaur, 2. sparkly and shiny.
Your little one will love wearing it.
This is a hooded jumpsuit with plastic snaps at the center front (no snap crotch). The anti-skid sole booties are separate and attach with hook and loop strips.
What You Need to Know
available in sizes from 9 months to 3T/4T.
hooded jumpsuit design with front snap closure
separate booties
Green T-Rex Costume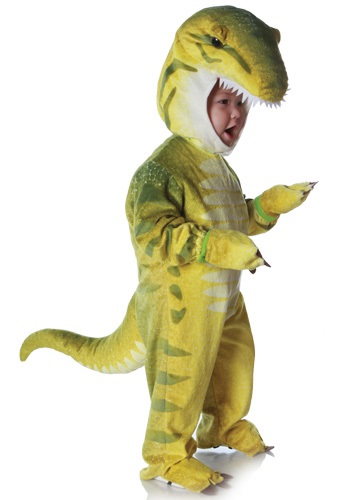 Child Green T-Rex Costume
For the older toddlers, this T-Rex costume is sure to delight. Who doesn't love a T-rex?
This costume uses a jumpsuit design that closes at the back with hook and loop fastener. It comes with a cute hood and stuffed life-like tail, plus mittens and shoe covers (nice!)
It's a great option for walkers at Halloween… and you know they're probably just going to want to wear it all the time. 🙂
What You Need to Know
available in sizes from 18MO/2T to 4/6
jumpsuit design with hook and loops at the back
Shoe covers! so your toddler can wear their real, comfortable shoes with proper grip.